Material evaluation
Service List
OEL material evaluation
UV/VIS spectrum measurements (sample preparation: Vacuum-deposited thin film)
PL spectrum measurements (sample preparation: Vacuum-deposited thin film)
The material degradation characteristics by a long time heating
Evaluation of OEL elements
Electric current/ Voltage/ Luminance (IVL) characteristics
EL spectrum measurements
Luminance half life evaluation
Heat-resistant test
Shelf life evaluation in a high-temperature environment
Gas barrier evaluation
ITO substrate evaluation
Other optical measurement etc
* Some evaluation contents could be arranged if requested. Please feel free to contact us.
---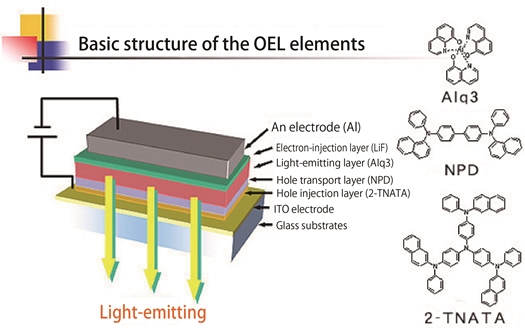 ---
Evaluation report
The elements appearance and observation of the light-emitting surface
It was found that the element has a good light-emitting surface without the light(dark)spot by our observations of the enlarged light-emitting part.

EL spectrum measurements
The followings show spectrums of the prepared OEL element made from common materials. It was found that spectrums have a peak at about 520nm peculiar to the Alq.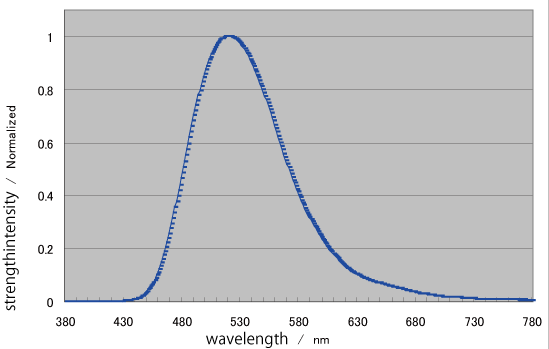 Electric current・Voltage・Luminance (IVL) characteristics evaluation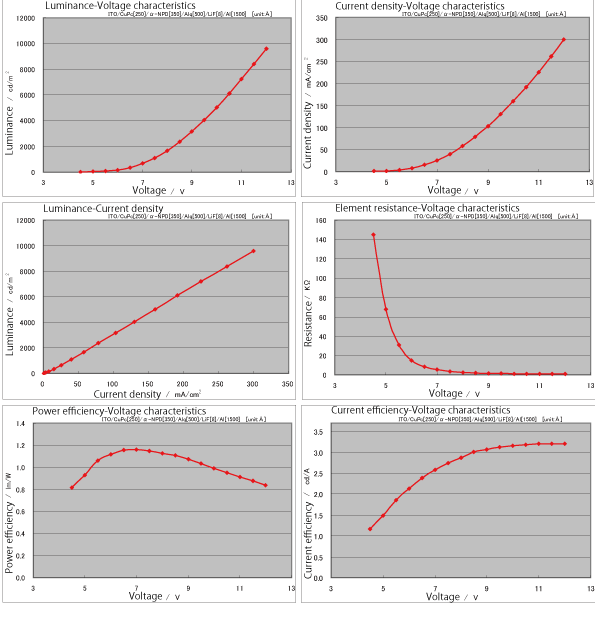 Luminance half-life evaluation
In the drive time of within 1000 hours, we predicted that the first luminance that reaches the luminance half is about 1700 cd/m2 roughly, and performed the luminance half-life evaluation. In addition, we performed aging to stabilize element light-emitting luminance under the following conditions.
(The aging conditions) 
・Luminance: about 800 cd/m2
・Constant current driving: 1.2mA
・Driving current: 10 minutes
The results of the evaluation are shown in the graphs. The vertical axis shows the luminance, and the graphs are standardized as the value of first luminance is 1.